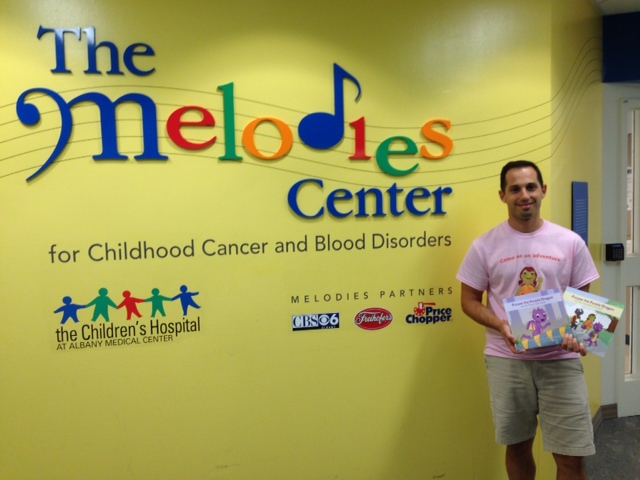 In our Indiegogo campaign, we promised that, if funded, we would deliver over 3,000 books to pediatric cancer centers across the United States – and this past September, we started delivering on this promise.
Hospitals Visited
I had the pleasure of visiting the following hospitals last month and delivering and reading the Purpee books to the patients:
Yale-New Haven Children's Hospital
Barbara Bush Children's Hospital
Vermont Children's Hospital
Albany Medical Center Bernard and Millie Duker Children's Hospital
Children's Hospital Los Angeles
What was amazing about the hospital visits was the courage, conviction, and positive attitudes of the children who have been stricken with these terrible diseases. Every time I heard one of these stories, I would get down, but then seeing the child look at the Purpee books and smile or run and play with a toy, I immediately smiled myself and realized that their innocence and naivety as children helps them to stay happy through these times.
Two Inspiring Patients
One of the patients I read to at the Children's Hospital Los Angeles was a three-year-old from Guam named Juree. Juree was diagnosed with a form of blood cancer less than a month ago. Proper treatment was not available in Guam, and her mother was eight months pregnant at the time, so Juree's grandmother flew with her over 14 hours to the Los Angeles Hospital.
Juree is now in good hands, and they are taking excellent care of her. Imagine having to fly for the first time – on a turbulent 14-hour flight. She was tired when I met her, but when she saw Purpee the purple dragon, she smiled – and even if it was just for a minute, she felt better. That is what our funders have helped to do by funding these hospital trips. See the photo of me and Juree below.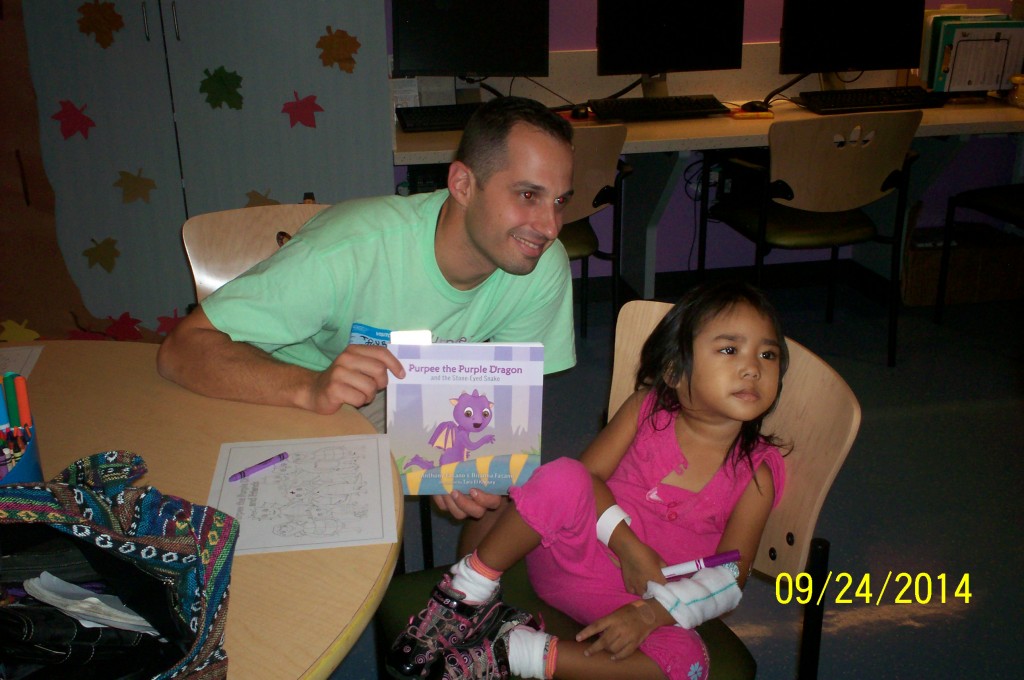 Another girl, named Delilah, whom I met at one of the hospitals, overcame leukemia a few years ago and was in the hospital for a checkup while I was there. The amazing thing about her was that even at such a young age – only 10 – she is deeply passionate about fighting these diseases so that others don't have to go through what she did. Her father said that her birthday was a few weeks away and she was having a theme party using the colors purple and orange, which represent cancer and leukemia respectively. She was so inspirational to me. See photo of Delilah and me below.
Through my travels in September, I was inspired by these children and their families for their ability to endure the circumstances they are dealing with. I can only hope that Purpee the Purple Dragon will offer them some joy during this tough process. I look forward to visiting more hospitals and putting smiles on the faces of as many children as possible. Thank you to all of those who have supported our cause.
Below are a few other photos from my trips.
Very truly yours,
Anthony Fasano, Proud Father of Three
Co-Author of Purpee the Purple Dragon and Friends