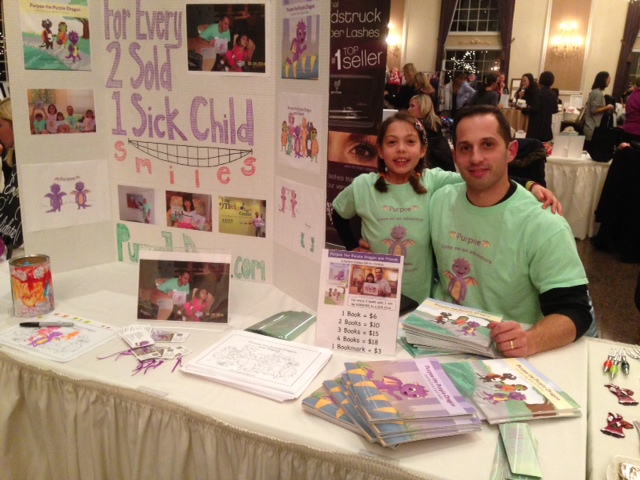 We wanted to take a minute to wish all of the Purpee the Purple Dragon supporters a Happy Thanksgiving – for many children in hospitals, their year was a little brighter this year because of their Purpee experience.
As we are in the process of fulfilling our Indiegogo campaign promise and delivering thousands of books to hospitals, we have also been thinking about our book series long term and how we can continue to maintain a charitable component.
We have decided that moving forward, for every 2 Purpee books sold, we will donate 1 to a sick child in a hospital somewhere. We have made some updates to our website reflecting that.
To that end, we have been getting out there and trying to sell the books wherever possible. This past few weeks, Brianna and I attended two craft fairs, one in Harrington Park and one in Bergenfield from which we will be able to donate approximately 30 books to hospitals.
It has been a gratifying year for our family to be able to work on a project like this that has impacted children in a positive way, both healthy and those that are unfortunately not well.
Please enjoy your family on this Thanksgiving Day.
Happy Thanksgiving from the Fasano family and Purpee the Purple Dragon and friends!
With gratitude,
Anthony Fasano, Proud Father of Three
Co-Author of Purpee the Purple Dragon and Friends